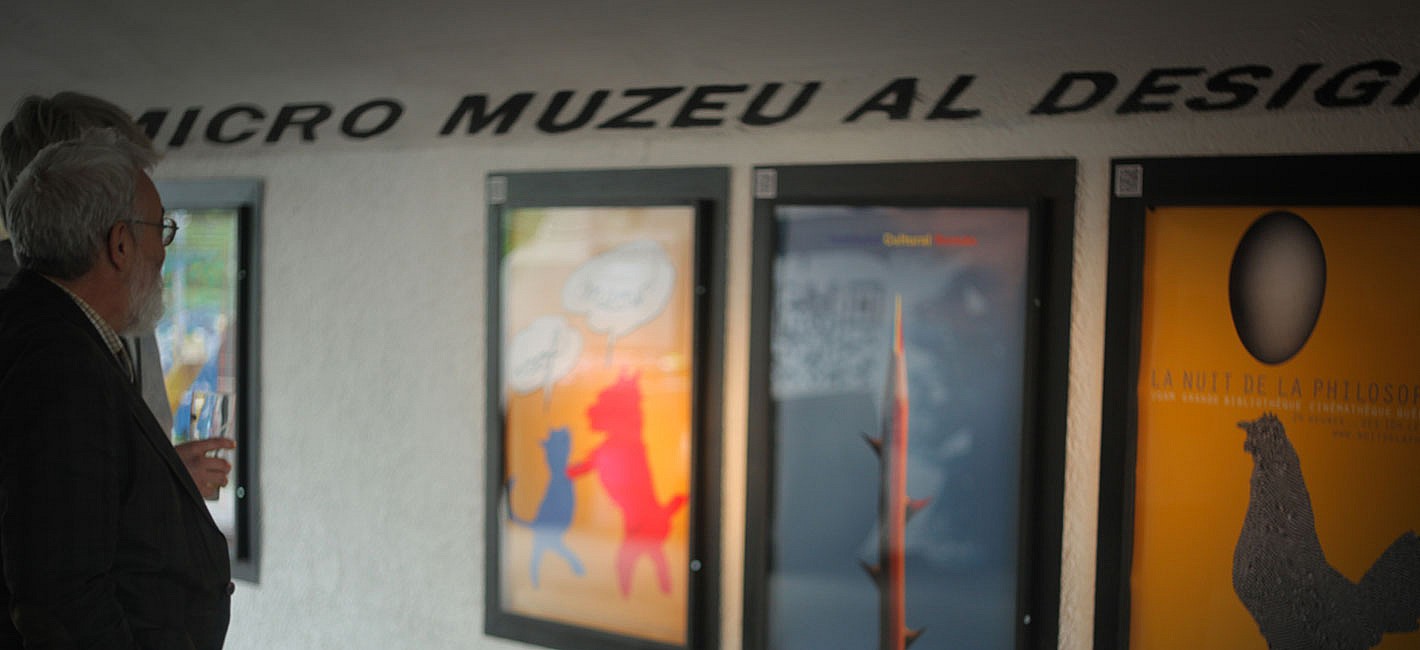 Typography and graphic design micro-museum
TypopassageTM is an unconventional micro museum network located in Timișoara, western Romania. It was born out of the need to increase the general public's awareness of the cultural and social roles of graphic design and typography.
 
The TypopassageTM exhibitions, workshops, talks and publications seek to showcase examples of outstanding practice in the field of visual arts and to incite a dialogue between international and local designers.
 
It was launched in 2011 by graphic designers Ovidiu Hrin (Synopsis, Timișoara) and Erwin Bauer (Bauer konzept & design, Vienna) as the first international extension of Typopassage Vienna. Since 2013 TypopassageTM became fully independent, with its own curatorial programme and events.
 
In the following years it has organically expanded its presence in Timișoara by adding several new locations to the network.
 
Most of the TypopassageTM' unconventional exhibition venues were installed in accessible public spaces (a residual passage under a bridge, the halls or the courtyards of historic buildings etc) which were rehabilitated into public poster galleries through the exclusive efforts of the team members and the museum's partners. The exhibitions are accessible to the public free of charge.
 
Received with enthusiasm by the public, the TypopassageTM conferences and workshops have been honoured by the presence of well-known design professionals (Ian Wilker, Hjalti Karlsson – Karlssonwilker Inc., Ian Anderson – The Designers RepublicTM, Mirko Ilić – Mirco Ilić Corp., Beth Kleber – Milton Glaser Design Study Center and Archives, Ciprian Isac – Graphicfront.ro) and by partnerships with international educational and cultural institutions (School of Visual Arts NY, Czech Centre Bucharest, German Cultural Centre Timișoara).
 
Future plans include building the museum archive – a repository of high quality contemporary Romanian graphic design –, opening the existing graphic design library to the public, and founding a school of visual arts and communication as an alternative to the state education system.


Curator: Ovidiu Hrin
Team: Paula Duță, Flavia Țună, Lavinia Vereș, Silvia Hrin, Alex Iliescu, Ștefan Orion, Mihai Zănescu
Partners: Synopsis, D'arc, D-Proiect, U-MAN, Mokum, AZERO, Electronic Resistance, Psihodrom, La Pizza Napoletana, b a u e r – konzept & gestaltung, Q21/ MQ Wien.

Mission
TypopassageTM aims to increase the visibility of graphic design, typography and contemporary cultural diversity among the general public through dialogue and a participative approach.
Objectives
to establish an original exhibition space format for the urban environment (an outdoor museum, accessible to everyone at every hour)
to educate and increase the visibility of graphic design and typography for the local general public,
to provide Romanian students and professionals with access to the international graphic design world, by facilitating direct contact with prominent personalities in the field
to increase the public interest towards creative endeavours with direct impact on daily life, with a focus on graphic design in particular
Typopassage TM features
Typography and graphic design exhibitions and events, featuring Romanian and international graphic designers
Yearly workshops on graphic design and typography
An iconic graffiti wall, refreshed yearly by a guest street artist
A magazine focused on typography and graphic design
Timișoara, Podul Tinereții - D'arc Mal | Curator: Ovidiu Hrin, Synopsis
T. +40 723 152 138, ovidiu(a)synopsismedia.com,
www.synopsismedia.com